The MS899electromechanical lock is equipped with the black high salt mist resisting ZDC housing, handle and stainless steel cam. With 25mm one way locking stroke, the product allows 3 point locking with quarter turning on the handle. Without changing the structure, users is able to open the door either RH or LH through changing the direction of the positioning device. Due to the change on the part of electronic box, our product will become the mechanical lock. In addition, the product is available with IC card and route control.
Technical Specifications
| | | | |
| --- | --- | --- | --- |
| Model | ERP | Default Cylinder | Default Cam |
| MS899 | MS784Z3D000002 | TC03-5 | 2888648001 |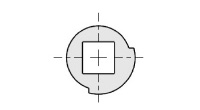 Change the angle of the positioning device to realize LH or RH.
Remarks: Please see the instruction of MS864-8.
Related Names
Electric Gate Lock | Electronic Access Control | Electromechanical Locking Solution